Silly me! I totally thought the
Pinterest Challenge
was tomorrow for some reason! Oh well. I really love what I did this time, unfortunately they look much better at a distance than up close. And they are not up on the wall yet.
I started with these $3.50 hooks I found in June.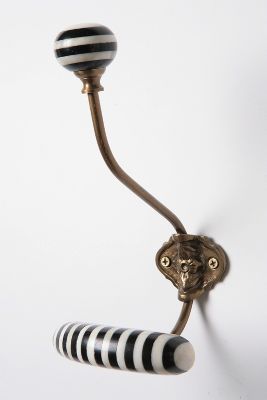 I cut my tape and got them all prepped and ready.
I painted them with oil based gloss black that I had on hand. And tried to be as careful as possible since the rounded edges left little dimples here and there.
Here they are! Not perfect at all but at a short distance they look pretty awesome. In fact the hubby came home to see them and I said I painted them myself and he said "yeah right" he thought I bought them!! And then he tried to recover himself a little :)
I love them! I know they will look even better hanging in a row on the wall. I will update after I do so. And with the anthropologie ones coming in at $18 a pop and since I had all the supplies I needed it was a savings of $43.50! Not bad at all!